Established in 1974
Villareal Dental Clinic, Inc. has been providing top notch dental services to private individuals, foreign patients from the Philippine Medical Tourism, politicians, celebrities, different companies, hotel establishments and health maintenance organizations.
Villareal Dental Clinic, Inc. boasts of a complete team of renowned dental specialists working together to address all dental concerns from Oral Implantology, Periodontics, Orthodontics, Prosthodontics, Endodontics, Pediatric to Esthetic/Cosmetic and Restorative Dentistry.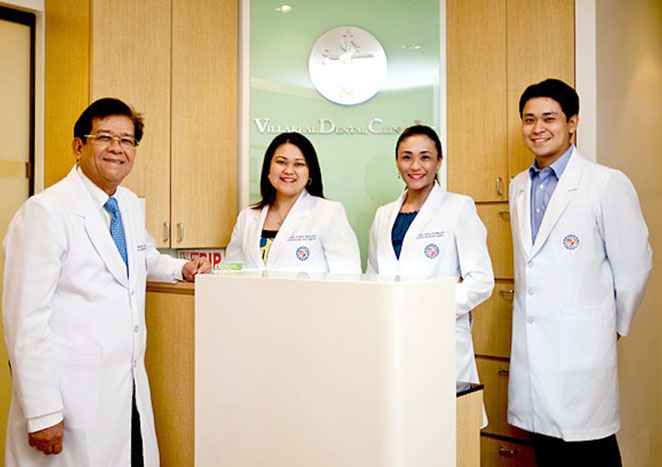 40
Combined Years of experience
Periodontics and Oral Implantology
D.M.D., F.P.A.I.D., F.I.C.C.D.E., F.I.C.O.I

She is one of the most sought after speakers in the country for varied dental seminars and conventions.
(+63 2) 7719295
Testimonials
We take care of your loved ones.
Very impressed! The clinic alone was so impressive. The staff were very nice and approachable. Dra. Sheryl carefully shared to us condition and gave us options. So far the best visit ever for us. Will definitely tell all my friends about her.
Dr. Shervy was very helpful and concerned with the condition of my case and has been very generous in sharing time and resources. (blocked texts) equipped with updated technology to ensure that the patient is relaxed and comfortable. I am very happy with the treatment on my case.
Although I just had oral prophylaxis, Dr. Shervy gave her full attention and performed the procedure herself. She kept n asking if I was ok, and gave reminders and recommendations that would benefit me.
I love how Dra. Shervy takes care of my teeth! I am 44 and have been a patient of their clinic for over a decade now. The quality of my teeth have been maintained, if not, it is even better today. Dra. Shervy takes the time to answer all my questions no matter how ridiculous and she explains proper dental hygiene which is so important to me. I love it that her hands are so light I don't even feel anything when I go for prophylaxis 
As a first time patient in the clinic, the doctor made me feel comfortable during consultation. He is accommodating and friendly.
She's an excellent dentist and I would highly recommend her. She is an expert in her field and she knows what she is talking about. She is very pleasant and makes her patients feel important.
Outstanding – best experience with a dentist ever. Well organized and efficient. No pain. Helpful after care advice. Well run clinic.
Book Appointment
Please call    (+63 2) 7719295 / 7897700 local 7920 or 7921  if urgent. Your personal case manager will ensure that you receive the best possible care.